Domus produced in prismatic polycarbonate are among the most advanced technologies in daylighting. They take advantage of sunlight in an efficient and safe manner, so that the use of artificial lights may be totally unnecessary during the day - whether sunny or even cloudy. What guarantees this intelligent use of natural light is precisely the material used in the production of this type of roof, prismatic polycarbonate.
As already mentioned about the materials used in industrial shutters, polycarbonate is one of the main polymers used in engineering. It serves similar purposes as glass and acrylic, but with greater strength, durability, and safety, as well as being self-extinguishing - flame resistant.
Here are other technical characteristics of prismatic polycarbonate:
| | | |
| --- | --- | --- |
| Physical Characteristics | Value | Unit |
| Densidade | 1.2 | g/cm3 |
| Delivered power module | 60 | MPa |
| Tensile modulus | 2.380 | MPa |
| Rockwell Hardness | 75 | M-Scale |
| Resistance to bending | 93 | MPa |
| Stretch at break | 120 | % |
| Isolated impact resistance | 65 | kL/m3 |
| Coefficient of thermal expansion | 6.5 E-05 | 1/°C |
| Continuous Operating Temperature | -40 a 100 | °C |
For use in zenith lighting, it takes advantage of the colorless and transparent aspect of the polycarbonate, as well as the exceptional resistance. It can be applied inclined or vertical, flat or curved. But there is not just one type of polycarbonate for daylighting from the roof. They vary in light transmission rates (how much light they allow to pass through), solar reflection (how much of the solar radiation is reflected) and shading coefficient (how much heat is retained):
In the case of prismatic polycarbonate - such as the one used in the LineaLight domes of the MB Group - the material is made with microprisms in its structure. These tiny elements, with great capacity to refract light, are present in enormous quantity in these domes: about 26 thousand per m2.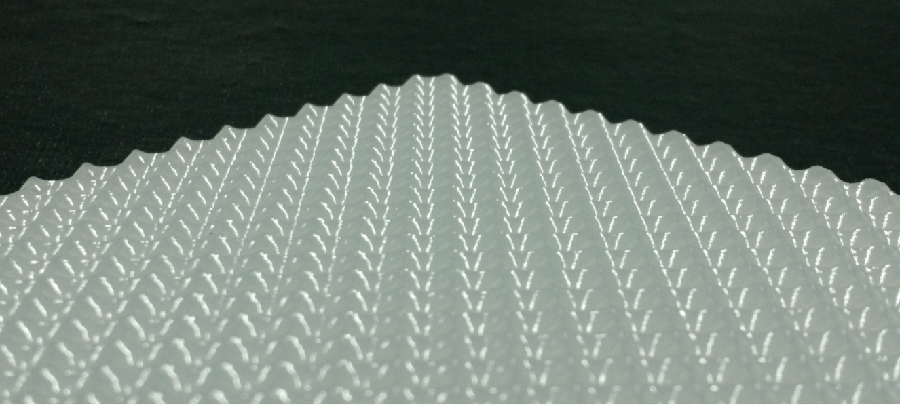 With its high light transmission and high refractive capacity, prismatic polycarbonate illuminates a larger area of the room, not just the space immediately below the dome. And it not only intensifies the illumination from each opening in the canopy: prismatic polycarbonate stops heat, ensuring thermal comfort, and blocks up to 90% of ultraviolet radiation. So it can be used in environments that are more sensitive to these factors.
The main qualities of prismatic polycarbonate could be summarized as follows:
High light transmission
Co-extrusion technology
Cold moldable design flexibility
Excellent U.V. ray resistance
Excellent abrasion resistance
High chemical resistance
Regulatory code compliance and certifications:
ANSI Z97.1 2009 Impact Rating - Class A
Hail Impact Resistance (FM 4431) Class 4 Severe Rating – Pass
IBC 2006 Rating for Horizontal Burn Rate ASTM D635-10 – CC1
IBC 2012 Self Ignition Greater than 650°F ASTM D1929-13a – Pass
UL 972: Burglary Resistant File #BP2126
Learn more about the Linealight domus and other products from the MB Group, or contact us.